How to Play Baccarat at the Crickex Casino?
To start playing baccarat for real money on Crickex, you need to create a personal account. Luckily for you, we've made the registration process as easy as possible, so it won't take long. To make the registration process even easier, we've created the following step-by-step instructions:
Сreate a personal account. Open the Crickex website and click "Crickex Sign Up". Create your username and password, also enter your first and last name, phone number, and email address. Your personal account will be considered created once these fields are completed.
Verify. After you've created your account, you should verify it. Go to the "Personal Information" section. Next to "security level – unverified" you will see two icons: an envelope and a phone. The verification code can be mailed to you or sent via SMS to your cell phone. Choose the best option for you, obtain the code, and enter it.
Make an initial deposit. Your account balance must be positive in order to place bets and play for real money. Go to the "Deposit", from the list of payment methods choose the most convenient for you. The minimum deposit is 200BDT, and the maximum deposit is 10,000BDT. You can use the site's suggested amount or enter your own.
Go to the "Crickex Casino" section and choose  baccarat game. Select the type of baccarat that you want to play. Then select a free table and begin playing.
Place a bet and begin playing baccarat for real money right away!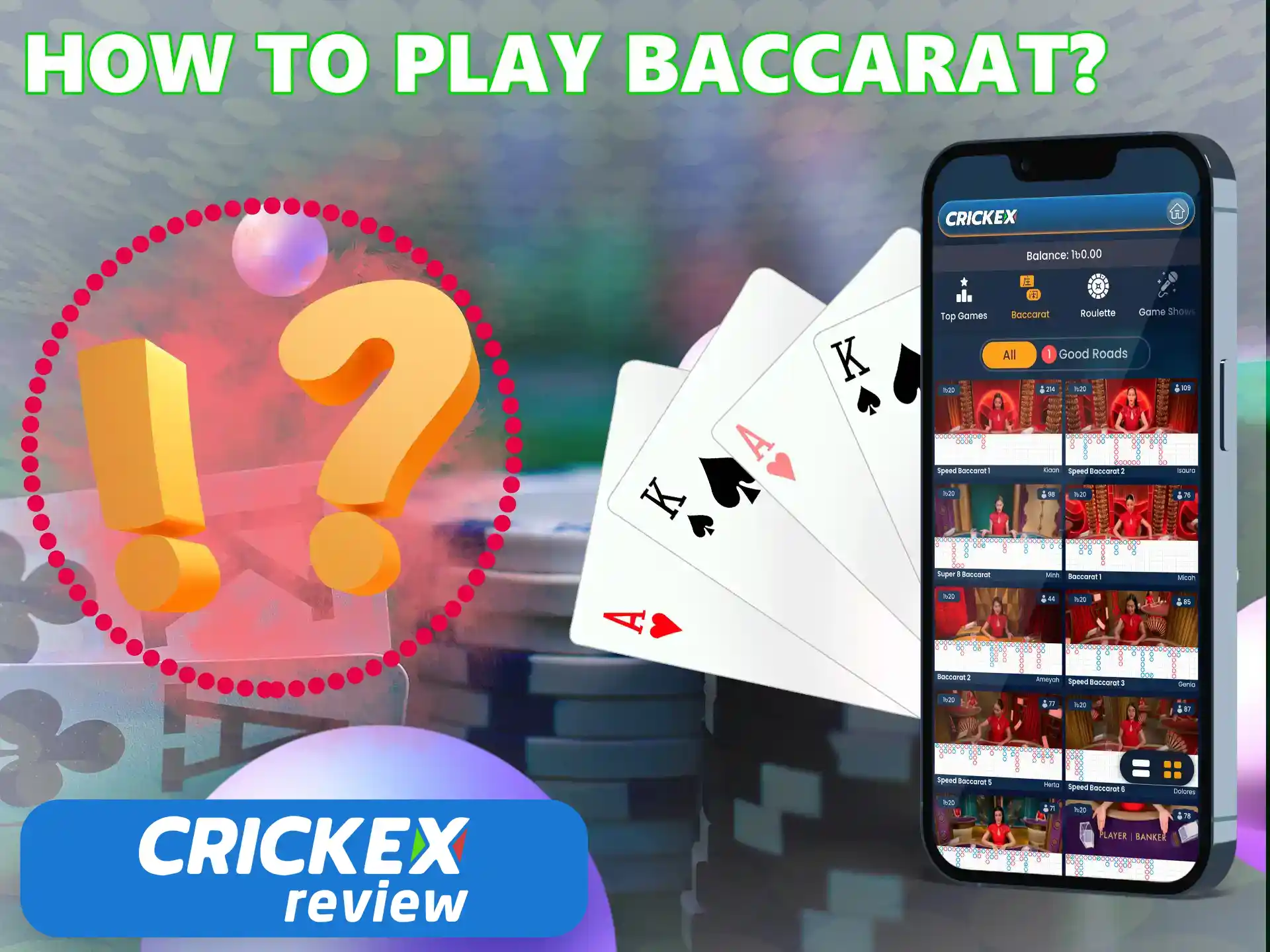 How to Play Baccarat with Welcome Bonus?
If you're looking for a bookmaker with a generous bonus system, Crickex is the place to be. Crickex casino offers a variety of bonuses on online games, including baccarat!
You can benefit from our 5% Sexy Baccarat Cashback Bonus of up to BDT5,00,000! This is a weekly bonus that will be credited to your account every Monday. The minimum and maximum cashback amounts are 50BDT and 5,00,000BDT, respectively. This cashback is only available on Sexy Baccarat bets with a 1X turnover.
We have many other bonuses in addition to casino bonuses. We have a personal birthday bonus of 1,000BDT, a referral bonus, weekly bonuses, and many more! We are constantly updating our bonus system in order to reward our users and provide them with the opportunity to win even more.
More information about all bonuses and their terms can be found in our website's "Crickex Bonuses" section.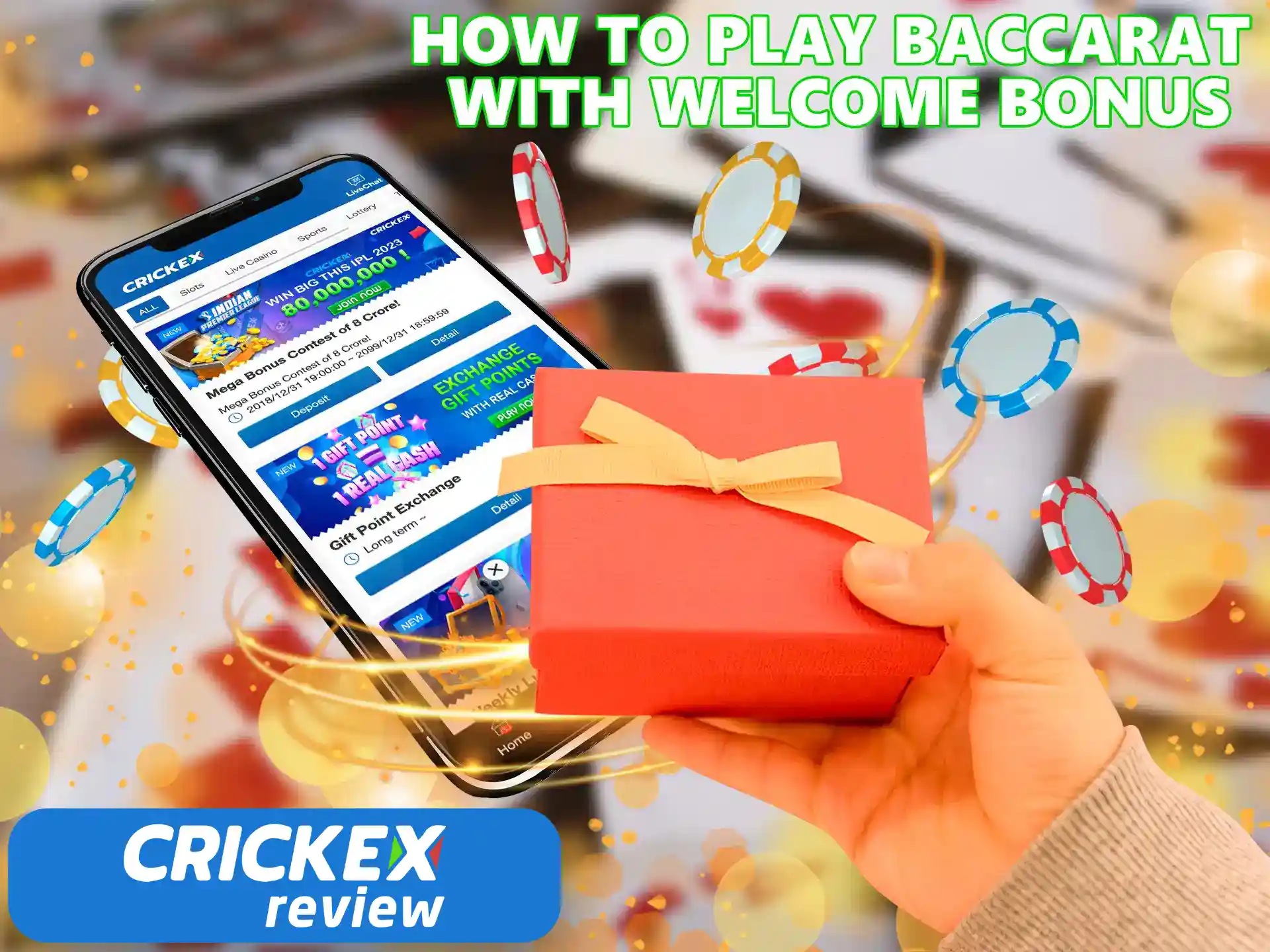 Types of the Baccarat Game at Crickex Casino
To begin with, in addition to the classic version of Baccarat, there are other types of this game. It is worth saying that the basic principle of the game is almost the same for all its versions and is based on the rules of the classic version, which we recommend to consider before getting acquainted with other types of Baccarat.
The game of Baccarat begins with a bet, where the minimum and maximum bets are predetermined.
You can place a bet on "player," "banker," or "draw," each of which has a different payout bet.
After the bets are placed, each player is dealt two cards.
The player who scores the most points on his cards becomes the winner.
Each card has its own value: cards from 2 to 9 have the value of the number shown on them; tens, jacks, queens and kings are equal to zero; an ace has a value of one.
If the sum of your cards is ten or higher, all tens are equal to zero and only the last digit counts, so a sum of 15 will be counted as a 5.
Also, if a player has a sum of points on the first two cards ranging from 0 to 5, he automatically receives a third card.
As we have said, the basic rules are pretty much the same for all types of Baccarat. Some variations may differ in the number of players at the table or the number of cards dealt to the players; additionally, some types of the game may differ in the length of the game itself.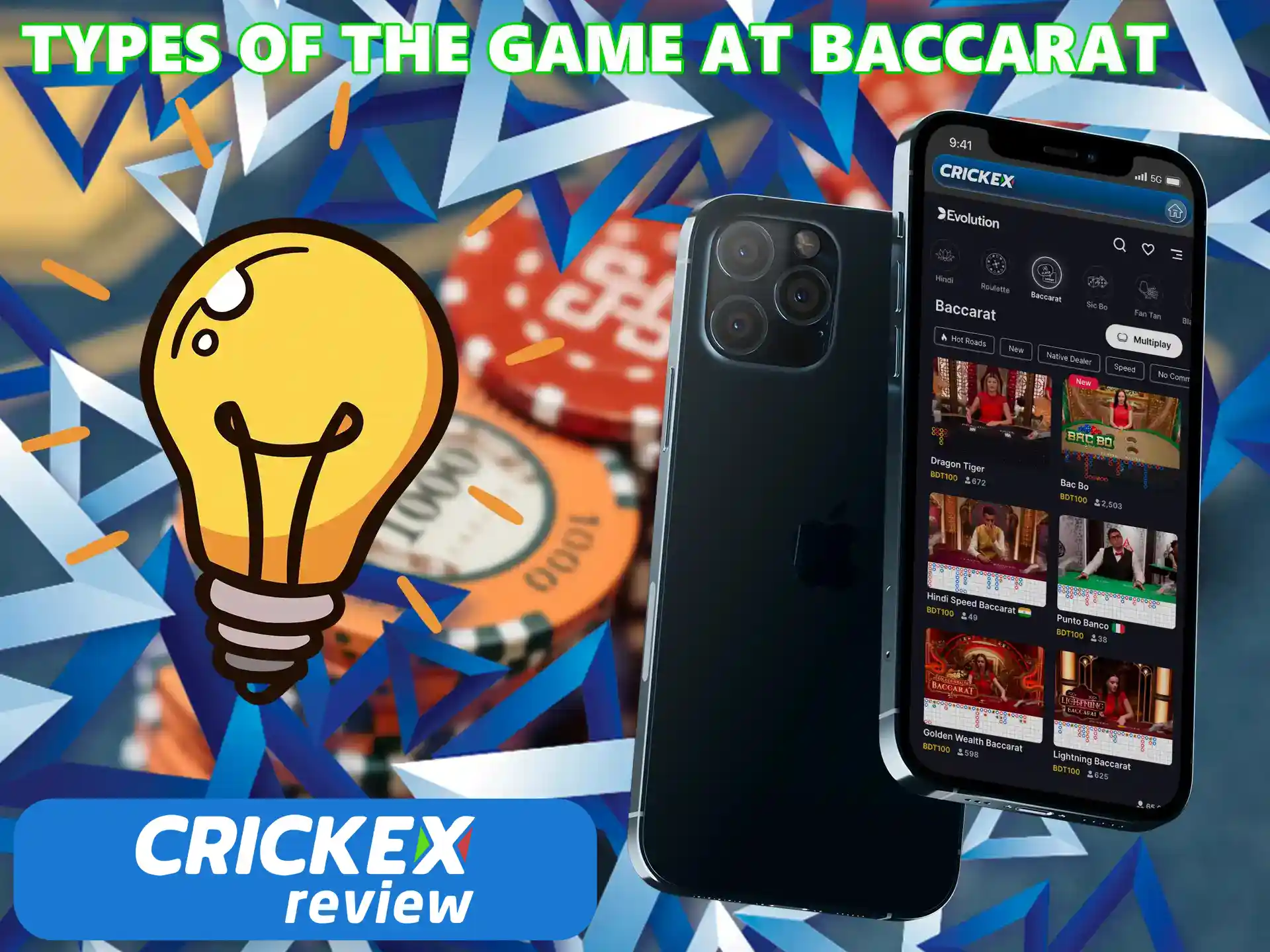 Mini Baccarat
Mini-baccarat, unlike the traditional version with more players, can be played by up to 7 people. Also, because there are fewer players at the table, the round speed is increased in this version, so more hands can be played. Also, mini-baccarat uses only one deck of 52 cards.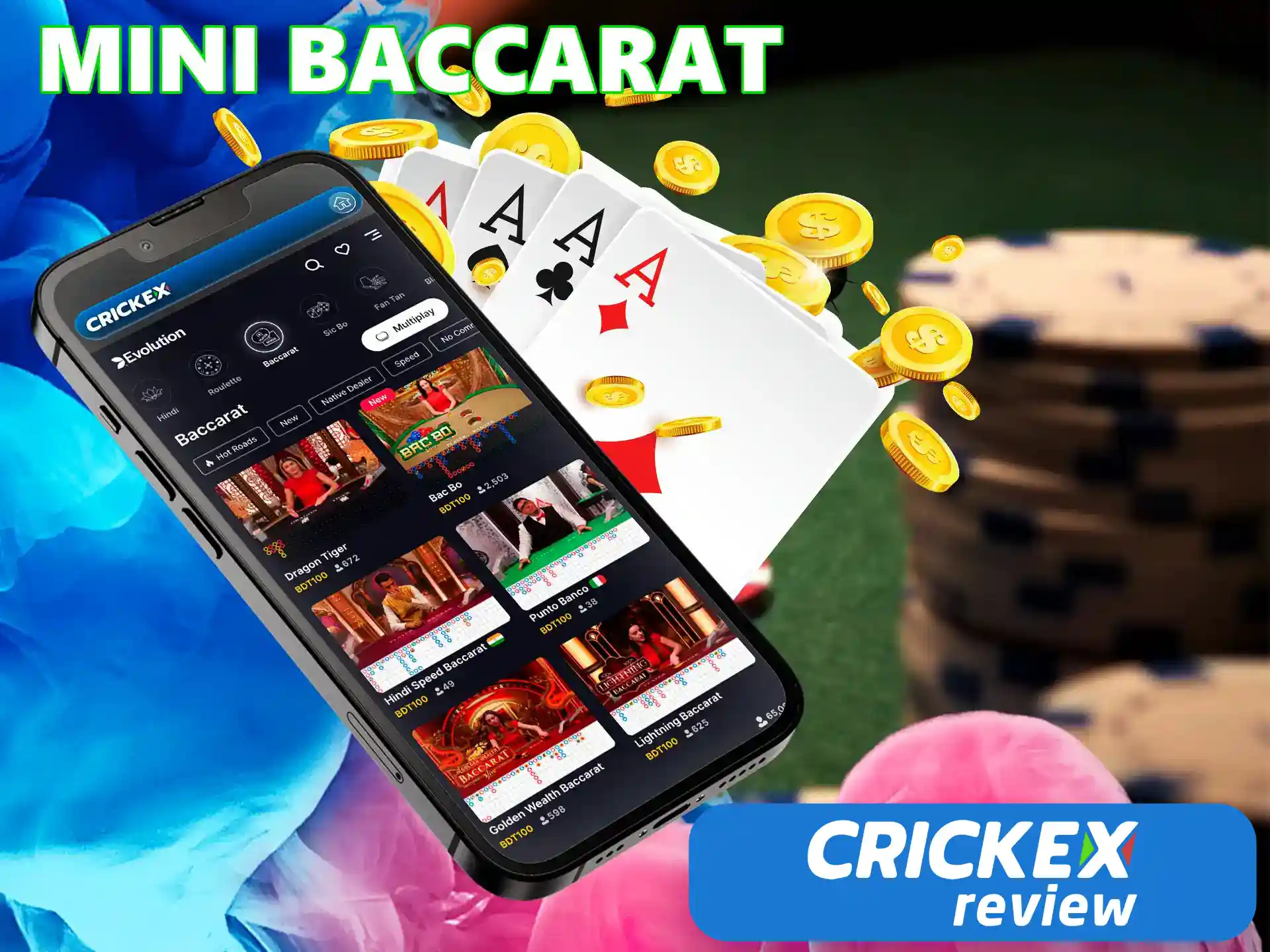 Three-Card Baccarat
This is a relatively newer version of baccarat that differs from the classic version by the fact that each player and the dealer are dealt three cards rather than two. Another difference is that if you have three face cards (J, Q, K) in one hand, this combination has the highest value. As a result, the hand with three face cards wins. All other rules remain the same as in the original version.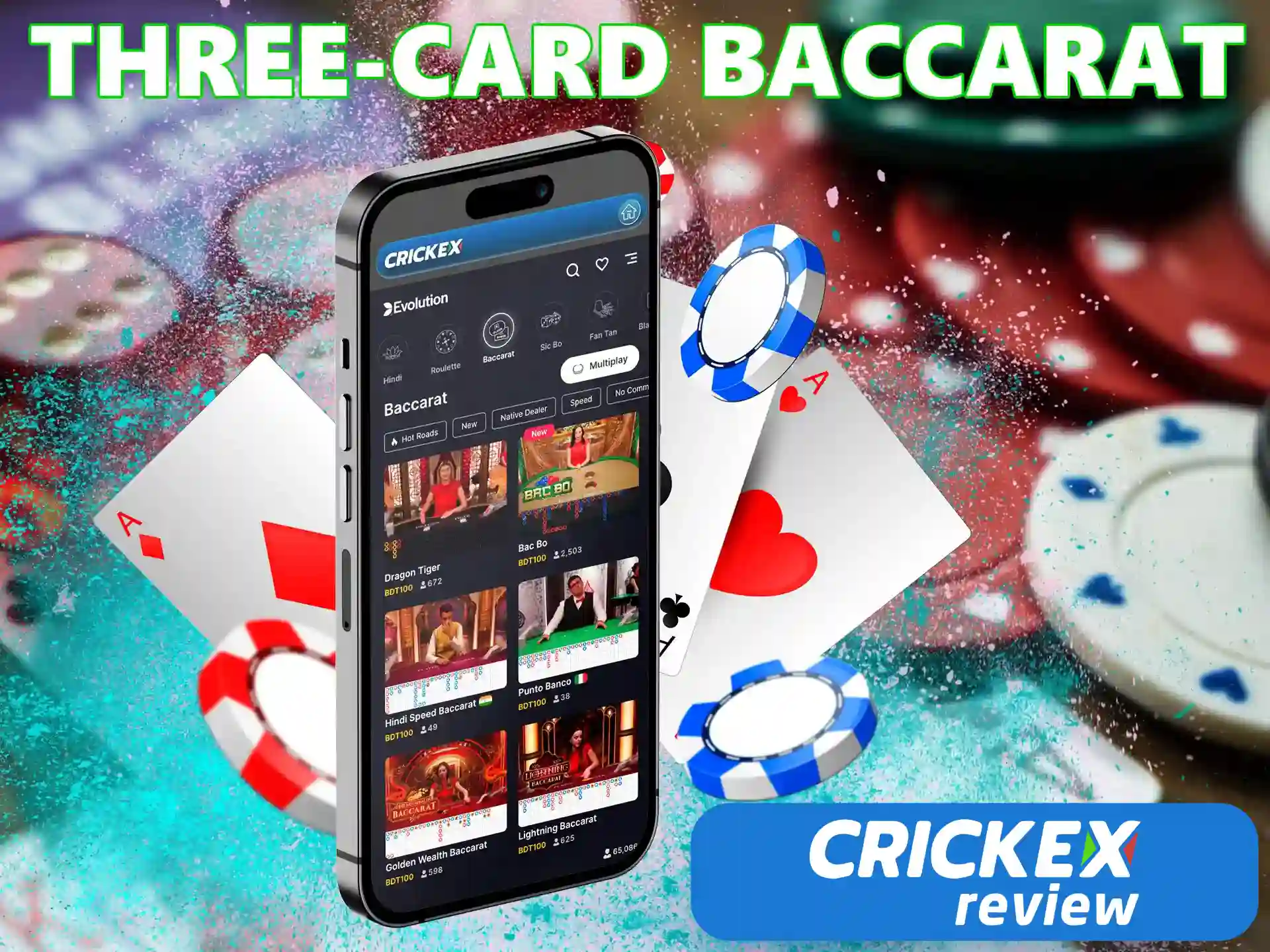 Baccarat Squeeze
This version differs in that the cards are dealt face down and then dealt one at a time by the dealer, which increases the tension and helps to extend the sense of excitement during the game. So, if you're looking for something to make your nerves tingle, this type of baccarat is just what you're looking for!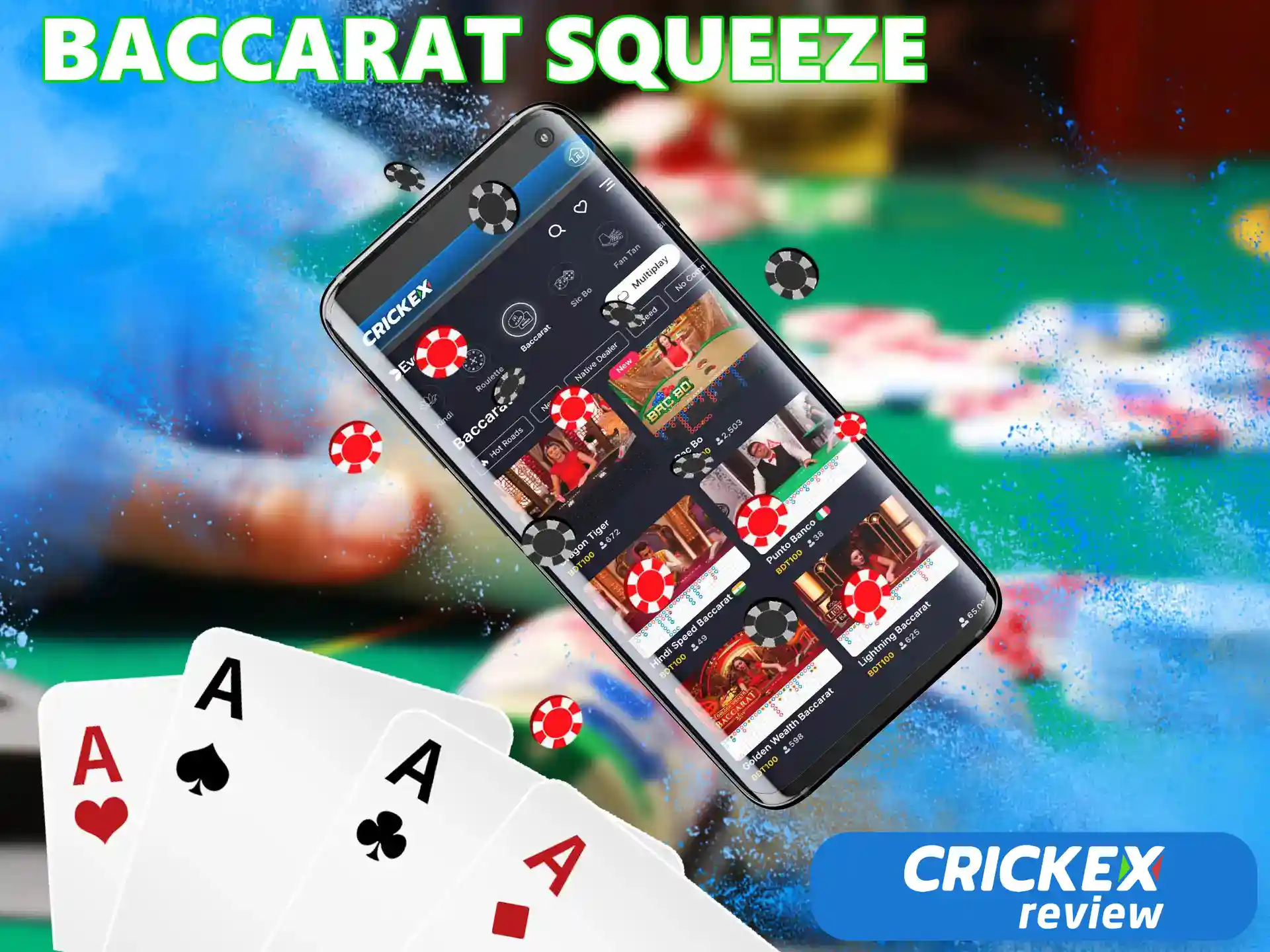 Speed Baccarat
From the name of the game, you can guess that this version of baccarat will differ in the duration of the round. The speed baccarat round lasts about 27 seconds, of which 12 seconds are allotted for the players to make a bet. For comparison, a round in classic baccarat lasts 48 seconds.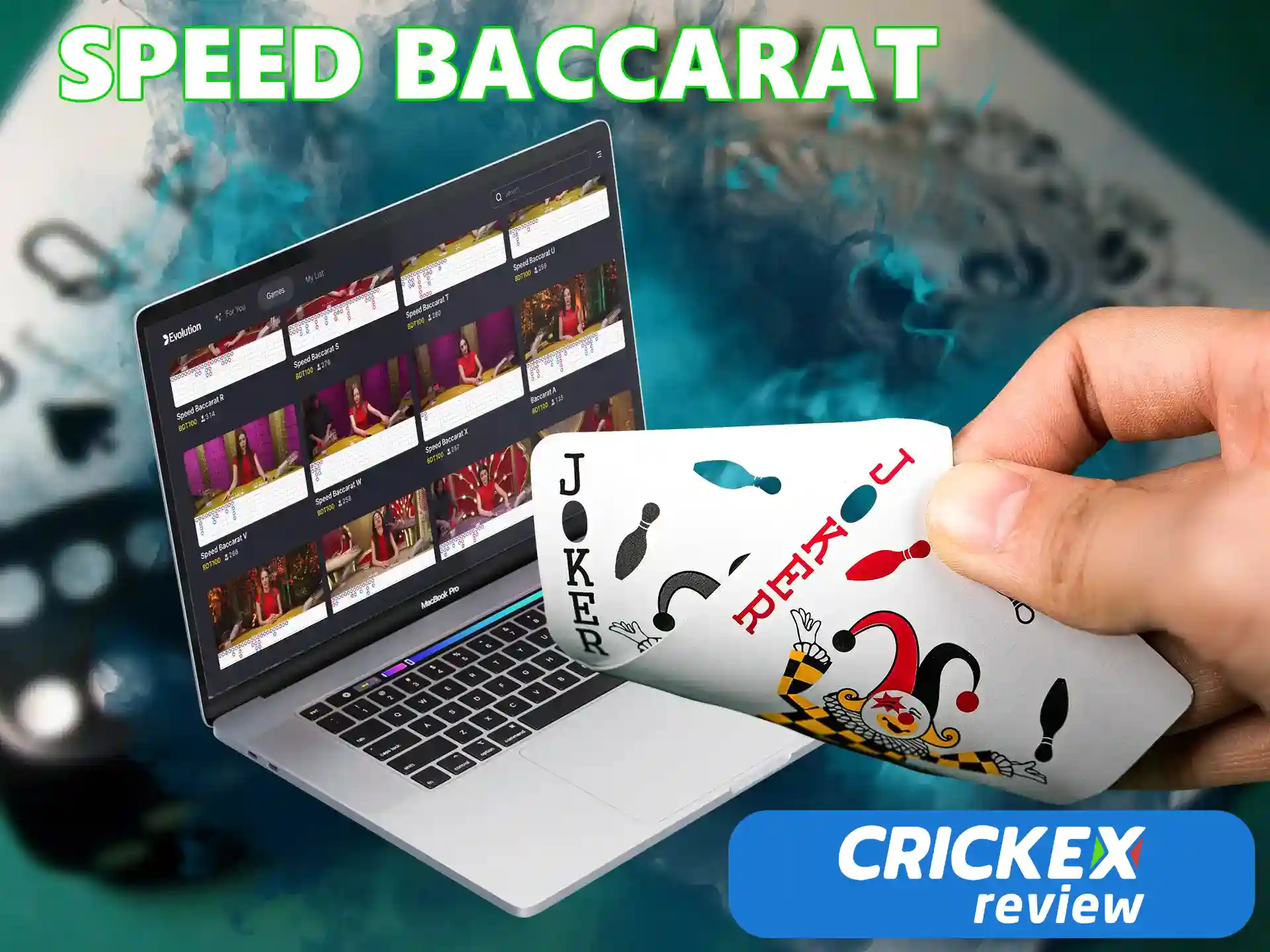 No Commission Baccarat
In No Commission Baccarat, if you bet on "Banker" and win, you pay no commission on your bet, so the payout is 1:1. The only exception is if "Banker" wins with a total of 6 points, in which case you only get paid 50% of the bet. For comparison, in the classic version of the game, if you win a bet on the "Banker," you are charged a 5% commission.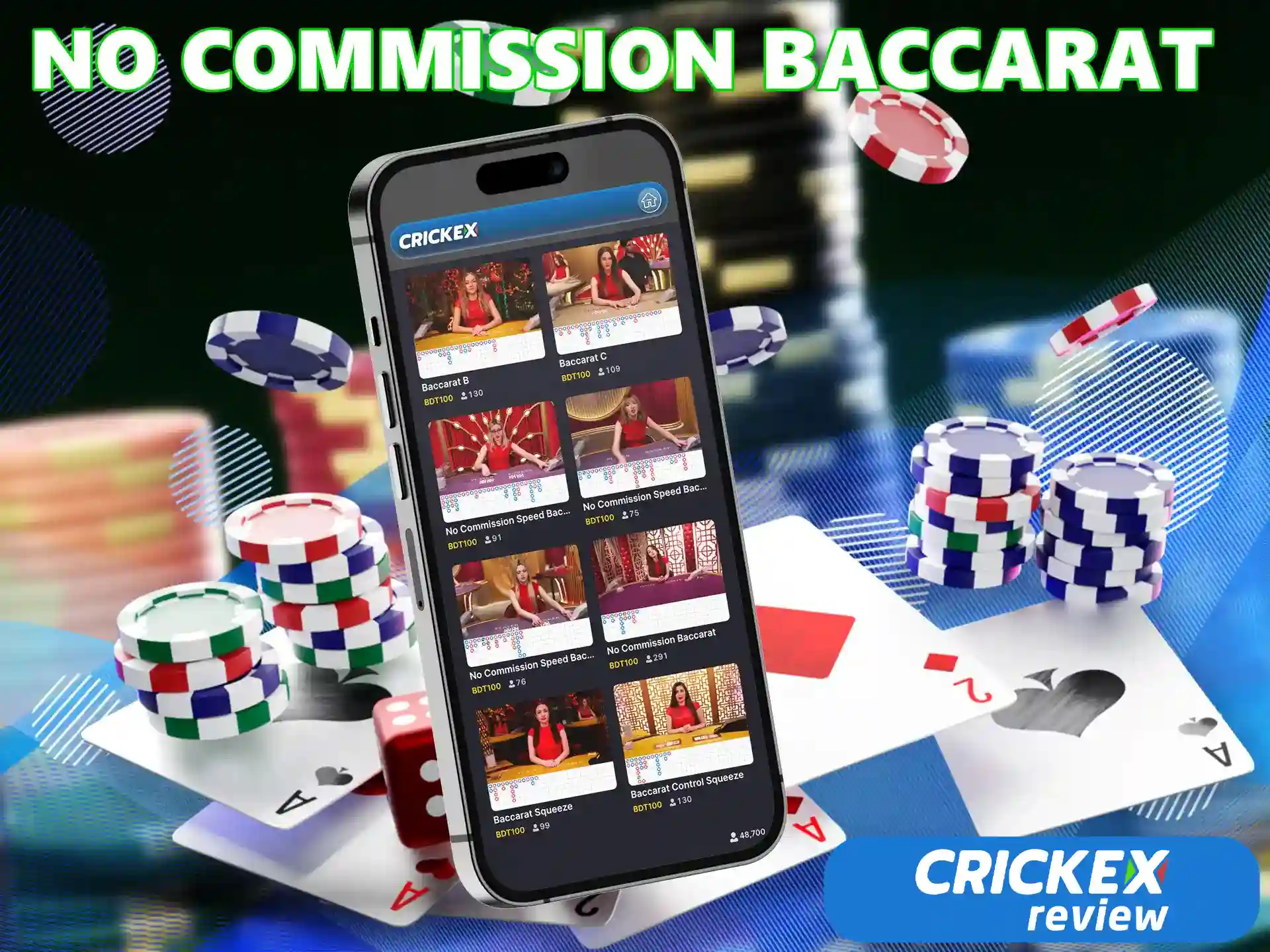 Crickex Baccarat Mobile App
If you value mobility and the ability to play baccarat and other Crickex games whenever and wherever you want, then our mobile app is for you! The mobile app is available for both Android and iOS users. The app operates quickly and without lag, is simple to use, and contains all of the same features as the website.
To begin playing Crickex baccarat via the mobile app, complete the following steps:
Install the Crickex mobile app. You can download it to your mobile device from our website for free.
Register or login. Login to your existing account if you have one. If you don't have an account, then create one.
Make a deposit. If your balance is already positive, you can go straight to baccarat betting. If your balance is empty, you will need to top it up. Go to the "Deposit" section and deposit, choosing the most convenient payment method for you.
Start playing baccarat. Choose baccarat among the other games, join a table you like, make a bet and start playing for real money!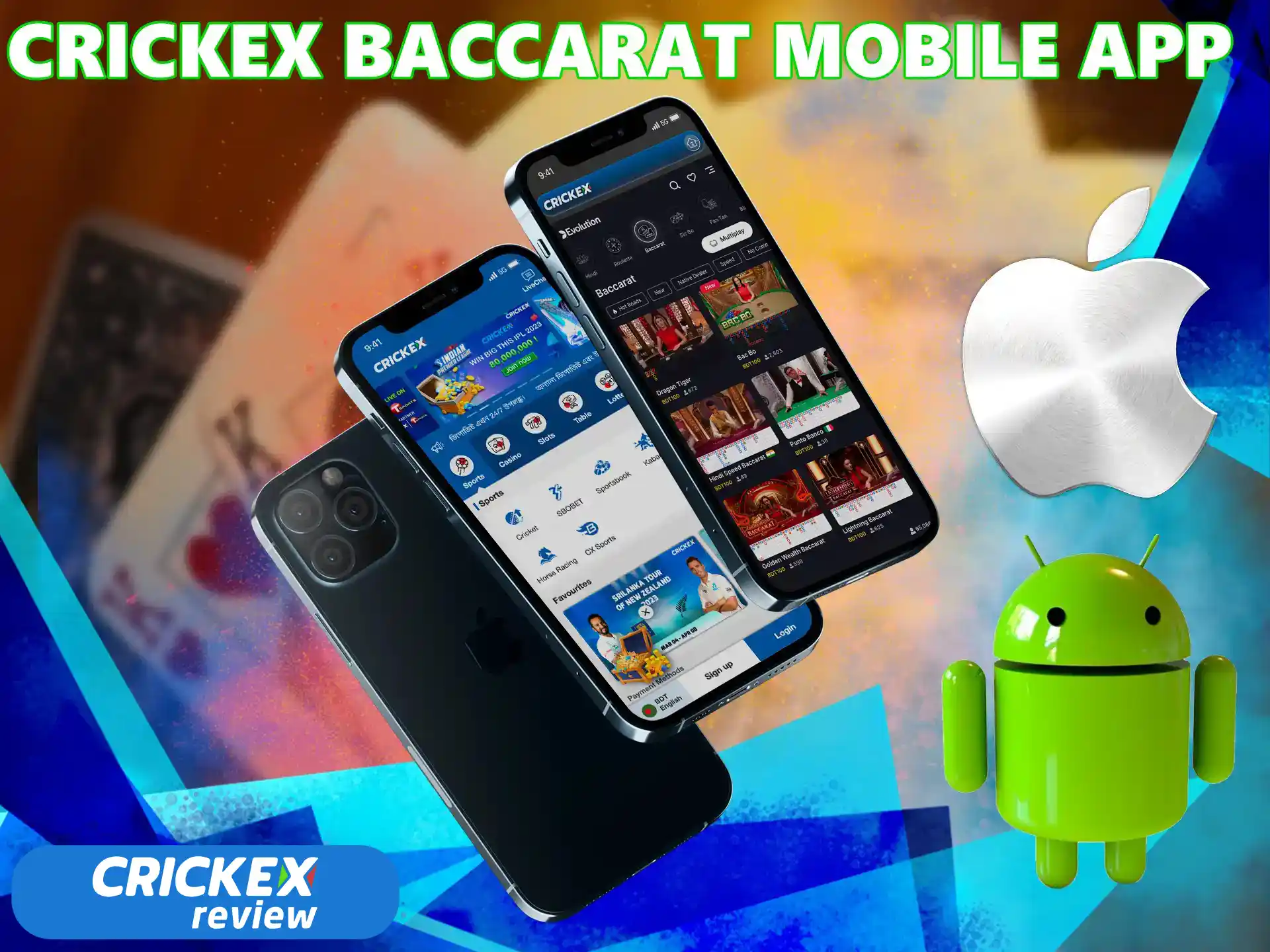 FAQ
Can I Play Live Baccarat at the Crickex Casino?

Of course, you can play live baccarat with a live dealer at Crickex Casino. The action of live baccarat takes place in real time with real people, which makes the game even more interesting and excitement.
Can I Play Online Baccarat with Bonuses?

Yes, at Crickex Casino you can play baccarat using bonuses, which gives you the opportunity to increase your earnings. The bonus is valid for playing Sexy Baccarat and can be received weekly.
Is It Legal to Play Baccarat Online at the Crickex Casino?

Yes, playing online baccarat at Crickex Casino is completely legal, as Crickex is a licensed bookmaker that adheres to all international standards. Crickex is also one of the best bookmakers in South Asia.
Updated: