How to Play Blackjack at the Crickex Casino?
In order to play online Blackjack for real money, all users need to have a personal account on our platform. This will allow you to not only bet and withdraw your winnings safely, but also to take advantage of all of Crickex bonuses and other benefits. We've made the registration process quick and simple, and we've included a step-by-step guide below especially for you:
Create a personal account. Go to the Crickex website and click "Crickex Sign up" in the upper right corner. Enter your first and last name, phone number, and email address after creating your username and password.
Verify your account. To gain access to all of Crickex's benefits, you should first complete the verification process. Go to the "Personal Information" section. Next to "security level – unverified," there are two icons: an envelope and a phone. The verification code can be sent to you by mail or via SMS to your cell phone. Choose the best option for you, receive the code, and enter it.
Make your initial deposit. In order to place bets and play for real money, you need to fund your account first. Go to the "Deposit" section, from the list of payment methods select the most convenient for you. The minimum deposit is 200BDT and the maximum is 10,000BDT. You can use the suggested amount or enter your own.
Go to the "Crickex Casino" section and select Blackjack. Choose the type of Blackjack you want to play, join a free table and start playing.
Place your bet and start playing Blackjack for real money!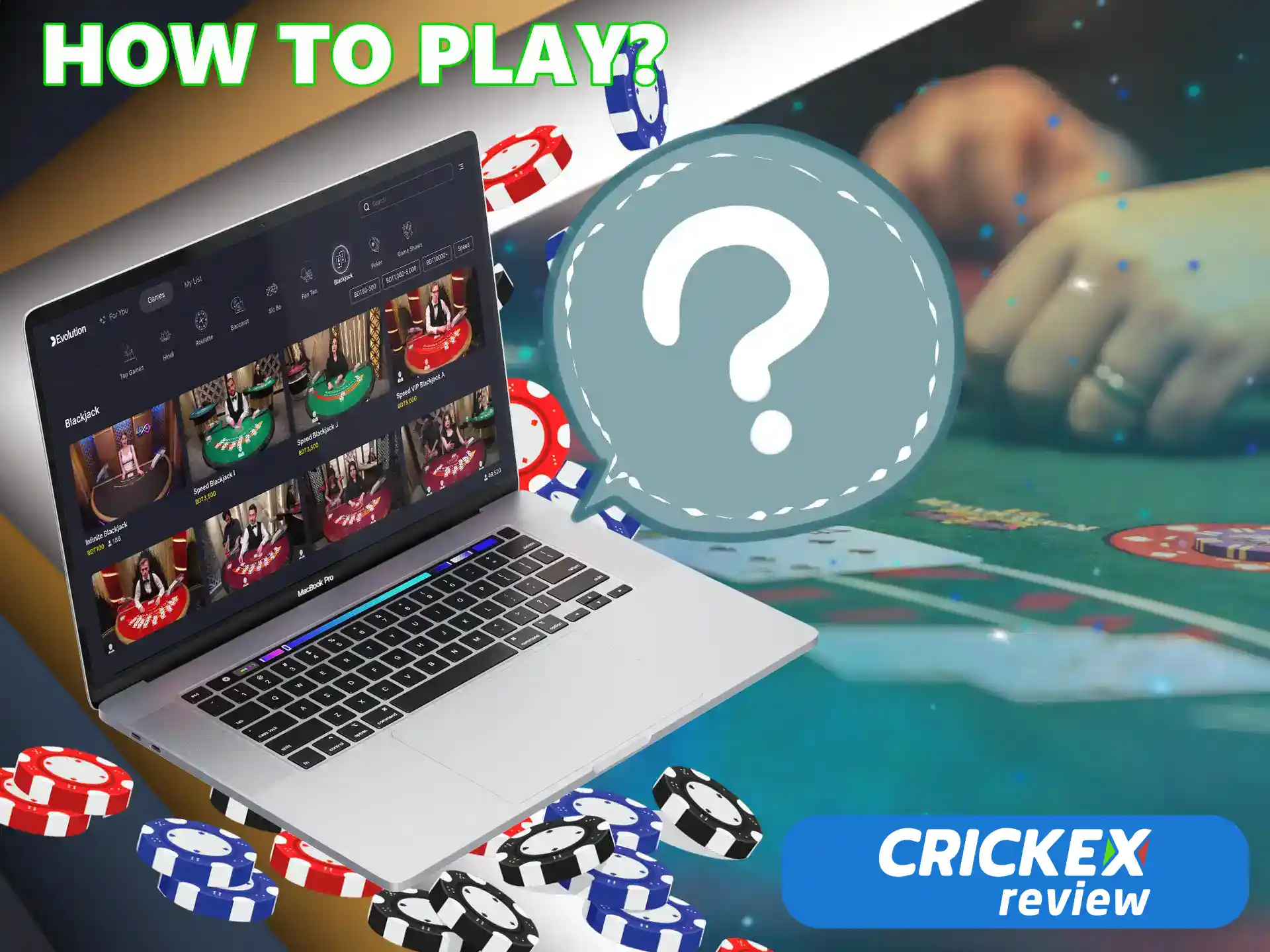 How to Play Blackjack with Crickex Bonus?
We try to encourage our users, so Crickex casino has a generous system of bonuses and various promotions that are periodically updated and vary for different types of games.
With our "Gift Point Exchange" promotion, you can earn bonus points by playing blackjack and then exchange them for real money. To earn points that can be redeemed for cash, you must wager at the Live Casino or Slots, Table, and Lottery. You get 1 point for every 1000 turnovers in Live Casino. There is no limit to how many points you can earn!
If you bet on EVO, which also includes Blackjack, you can get 5% EVO Cashback up to 5,00,000BDT every week! The minimum and maximum cashback amounts are 50BDT and 5,00,000BDT, respectively.
In addition to this bonus, we offer Personal Birthday Bonuses of up to 1,000 BDT!
We also have a Weekly Lucky Draw where every user who registers an account on Crickex and deposits 1,000BDT receives one ticket for a chance to win 1 iPhone 14 Pro! This promotion is held every week, and the results are announced on Sundays.
More information about all of our bonuses and special offers can be found on our website in the "Crickex Promotions" section.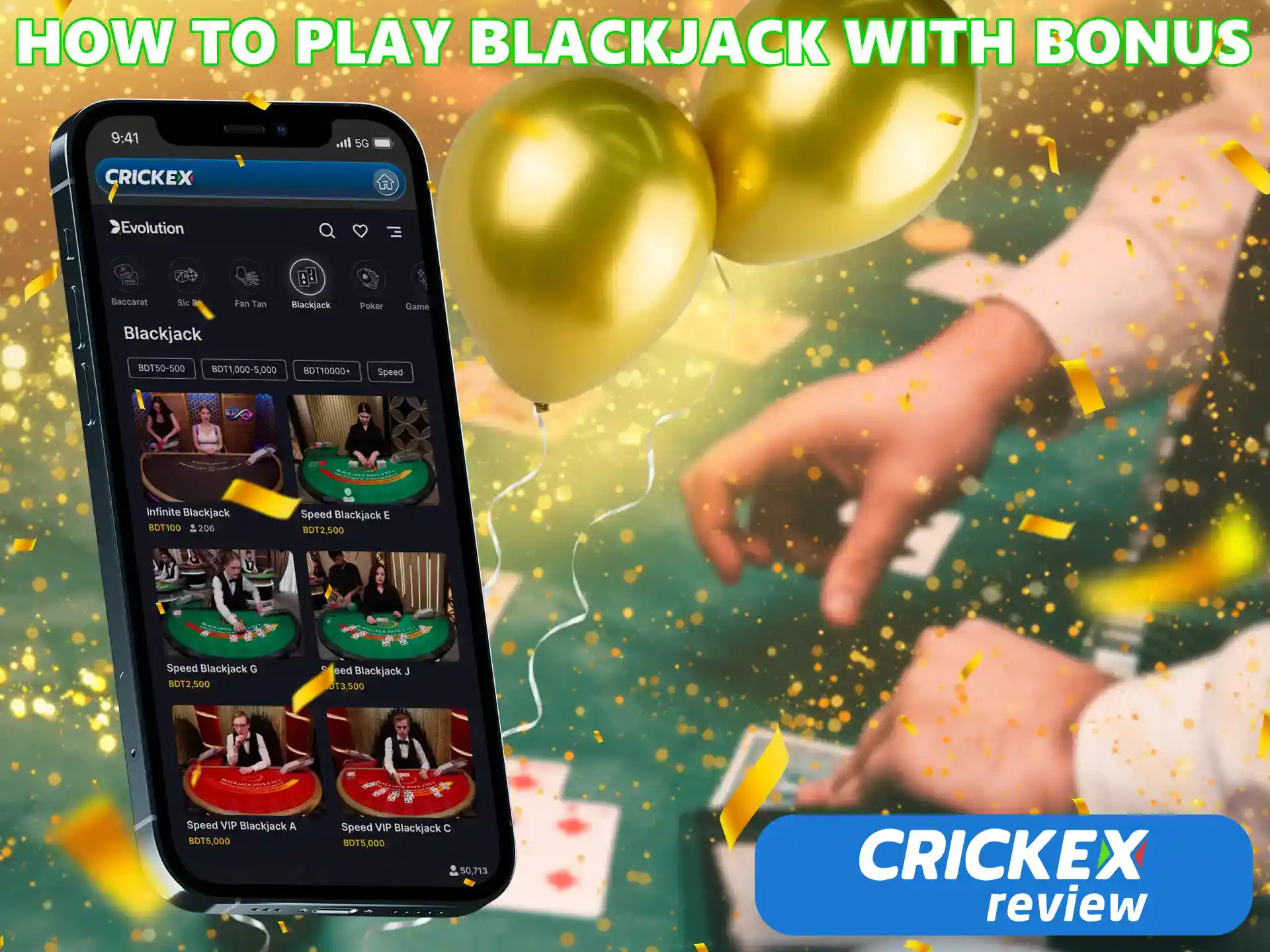 Types of the Blackjack Game at Crickex Casino
We briefly mentioned at the beginning that the goal of blackjack is to accumulate 21 points before the other players, or to score more points than the dealer. A crucial rule is that the total number of points should not exceed 21. The player with the most points wins. In addition to the classic version, there are other types of blackjack. In general, the game is pretty much the same, but the rules and strategies can vary a little bit for different types of blackjack.
We recommend looking into the other types of blackjack and how they differ from one another.
American Blackjack
American blackjack is a type of blackjack in which the player faces less risk. To begin, the player may surrender at any point during the card dealing process. Second, the player can double down on any cards. In American Blackjack, players are dealt cards, one of which is face up for all players, so if the first card is an Ace or gives 10 points, the second card opens as there is a chance that the combination is collected.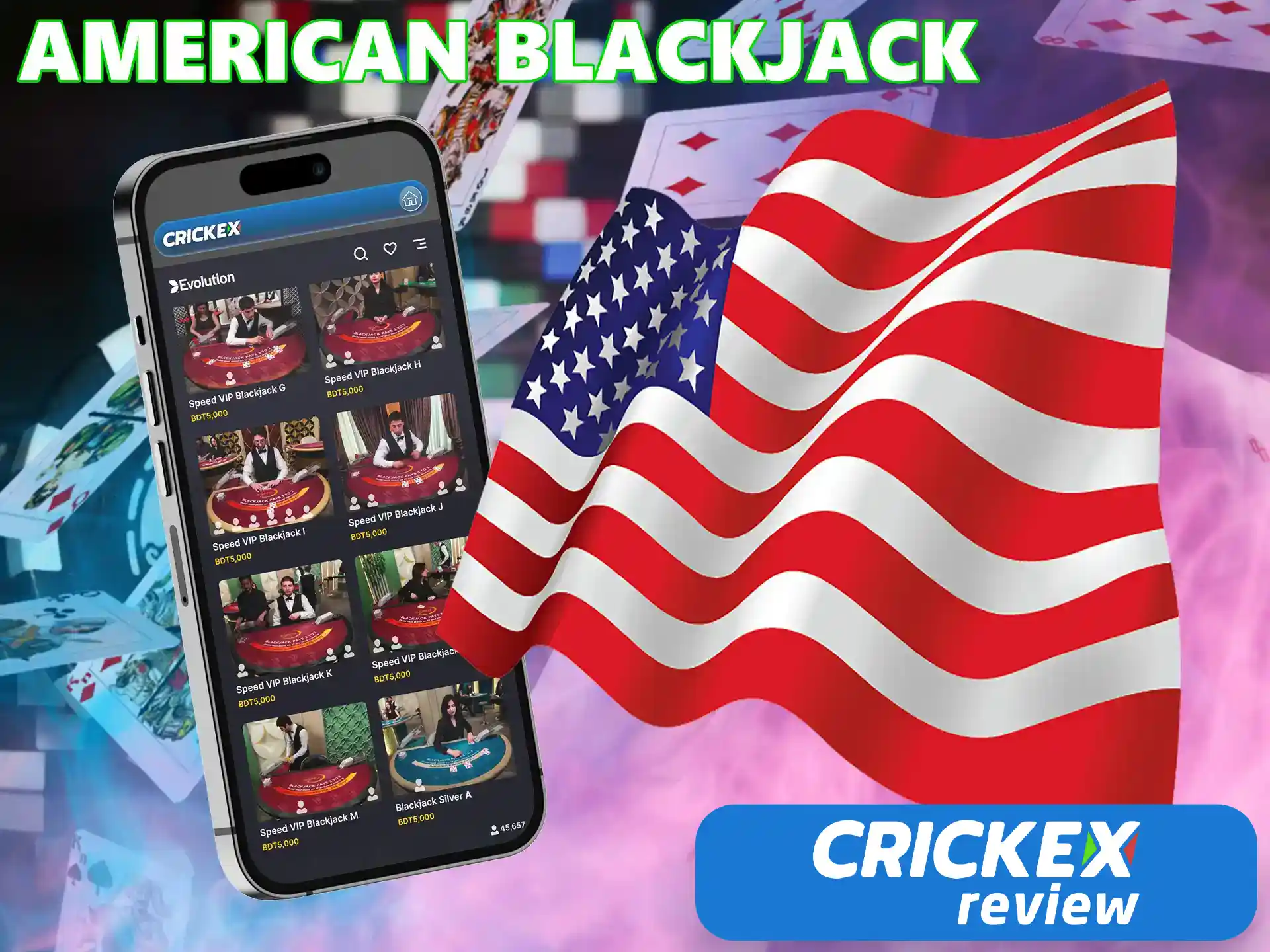 European Blackjack
European blackjack is more unpredictable than American blackjack. To begin, you cannot fold if you have already placed a bet. Second, you can only double down if you have 9-11 in your hand. In addition, in European blackjack, the dealer is dealt one card at a time and receives a second card only after the players have made their combinations.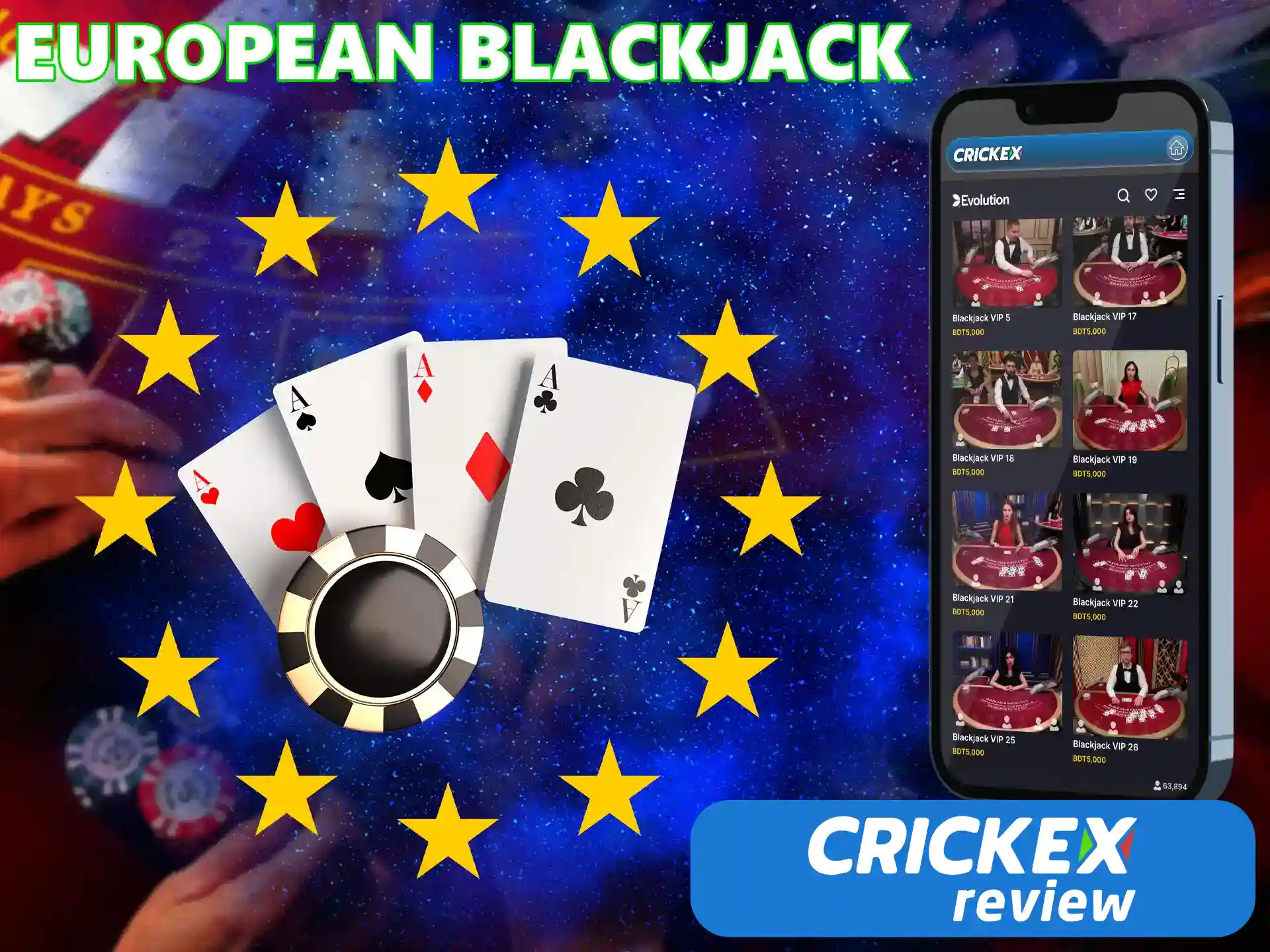 Perfect Pairs
Players in Perfect Pairs place the same bets plus additional bets. The additional bet is placed only before the cards are dealt and is not always the same as the main bet. The additional bet is placed in order to obtain a pair of the original cards. For an additional bet in Perfect Pairs, you can get one of three outcomes:
Perfect Pairs which has the best payout odds. The cards are identical.
A colored pair which consists of two cards with the same face value and number and same colors.
A colored pair which consists of two cards with the same face value, but different suits and colors.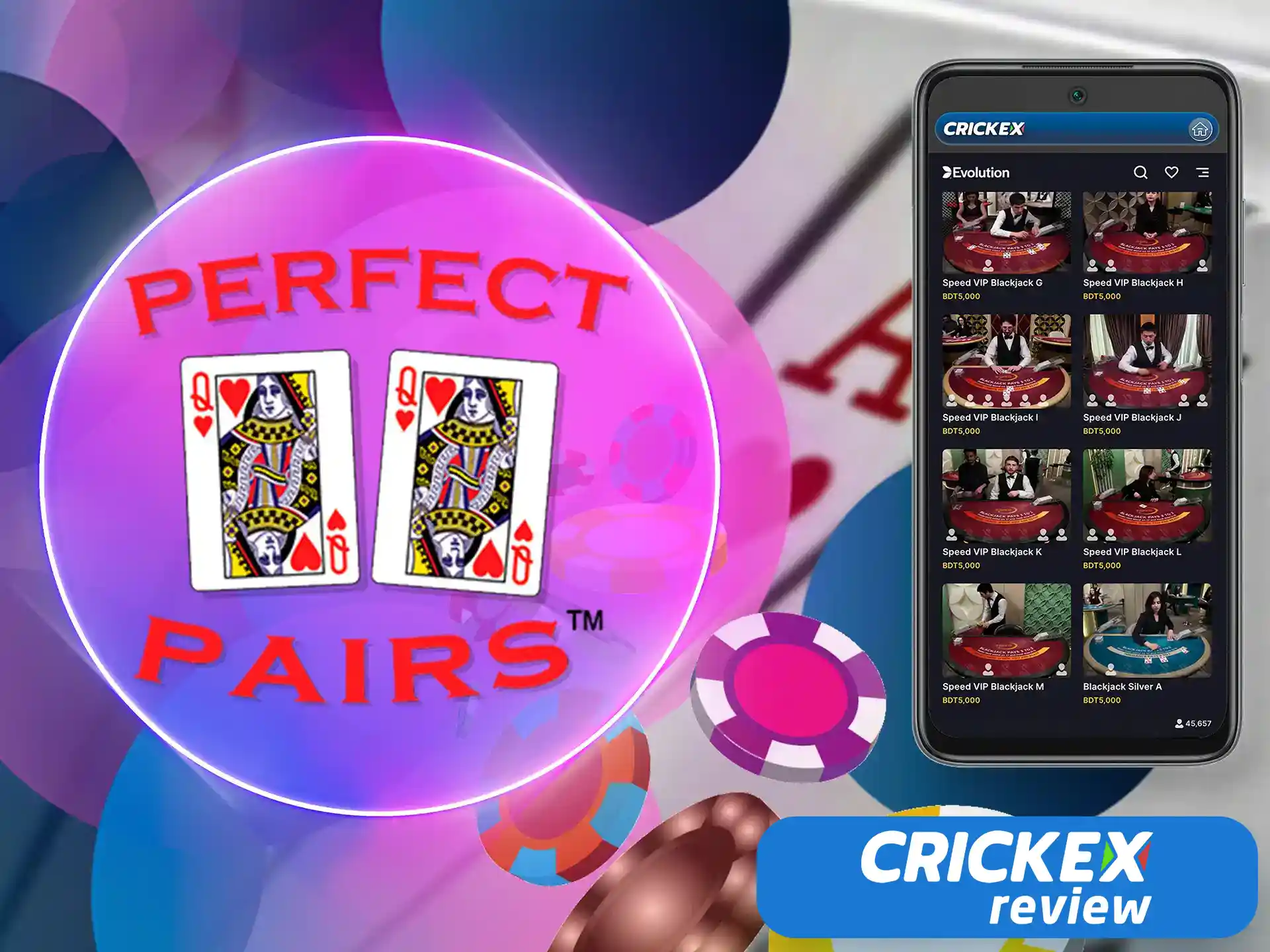 Free Bet Blackjack
In this version of blackjack, players can make "free doubles" or "free splits" during the game, but whith a certain combination of card. Having a combination with total points of 9-11, palyer can make a "free doubling" and receives one card. If the player loses, only the initial bet is lost; if wins, the player gets the initial bet + two more. "Free Split" can be done with any combination of cards, except tens. In this case, the initial bet stays with the player on the first hand, and then each hand is played separately.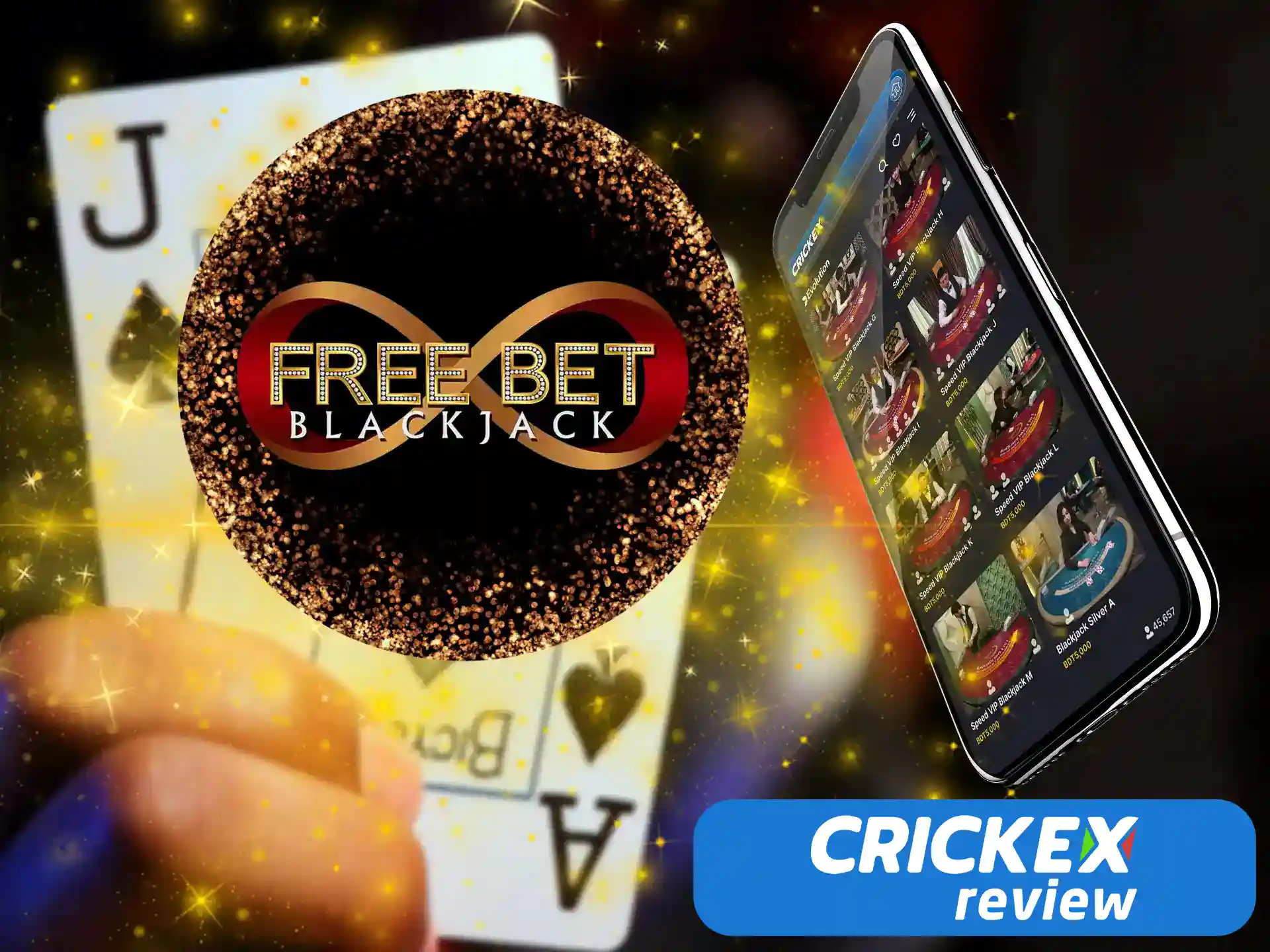 Blackjack Switch
In Blackjack switch a player plays two "boxes" at the same time and can change cards between them until he decides to split, double or fold. Also, with a "soft hand" of 17 points, the dealer does not stop playing cards. If the dealer scores 22 points and none of the players ever collect 21 points, a tie is declared.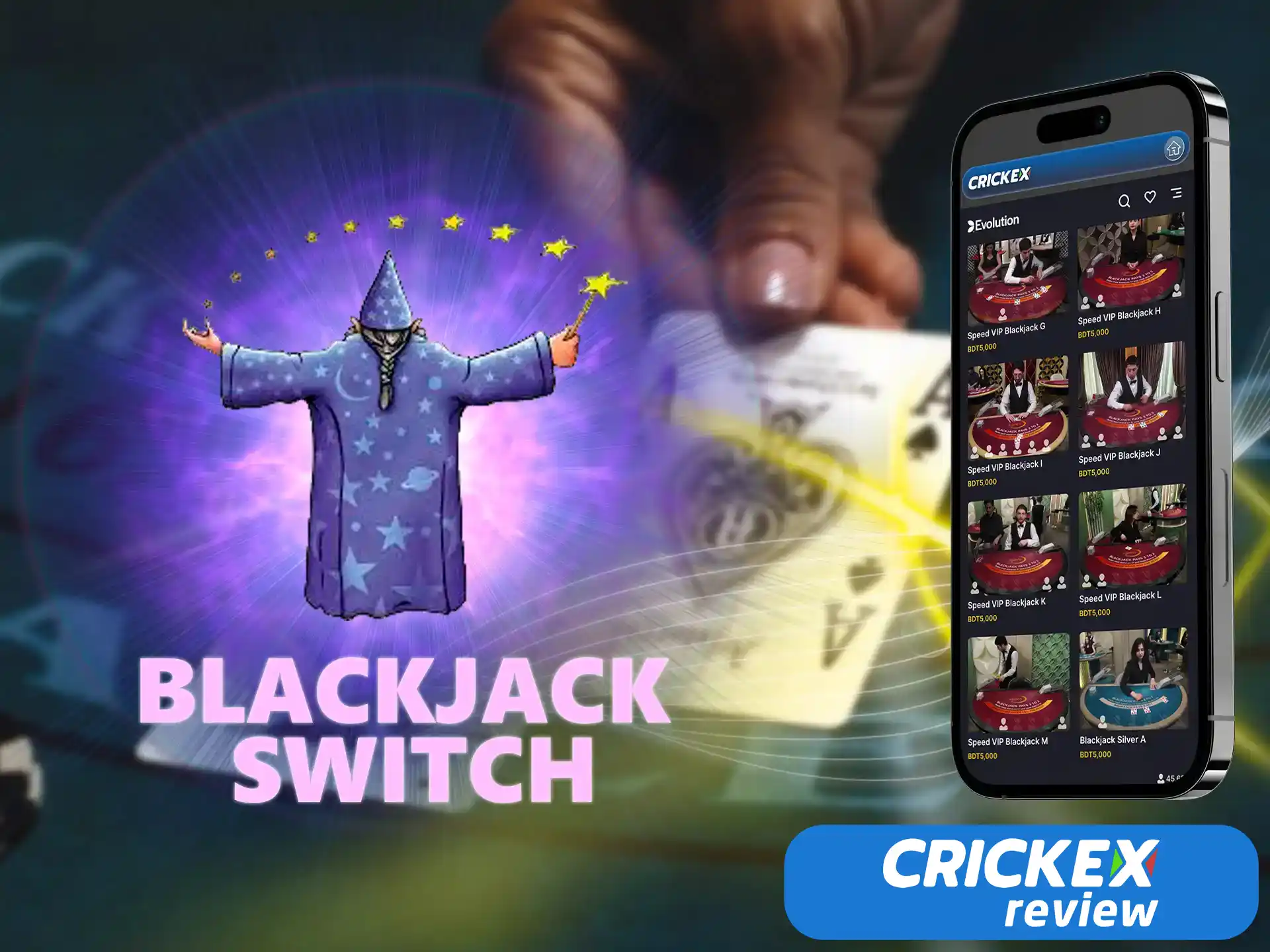 Multi-Hand Blackjack
In this version of blackjack, players have the ability to place more bets since more than one hand is being played at once. Since each "hand" is treated as a separate hand and played separately, the betting amount does not have to be the same for all. Usually, the number of hands can be up to 5.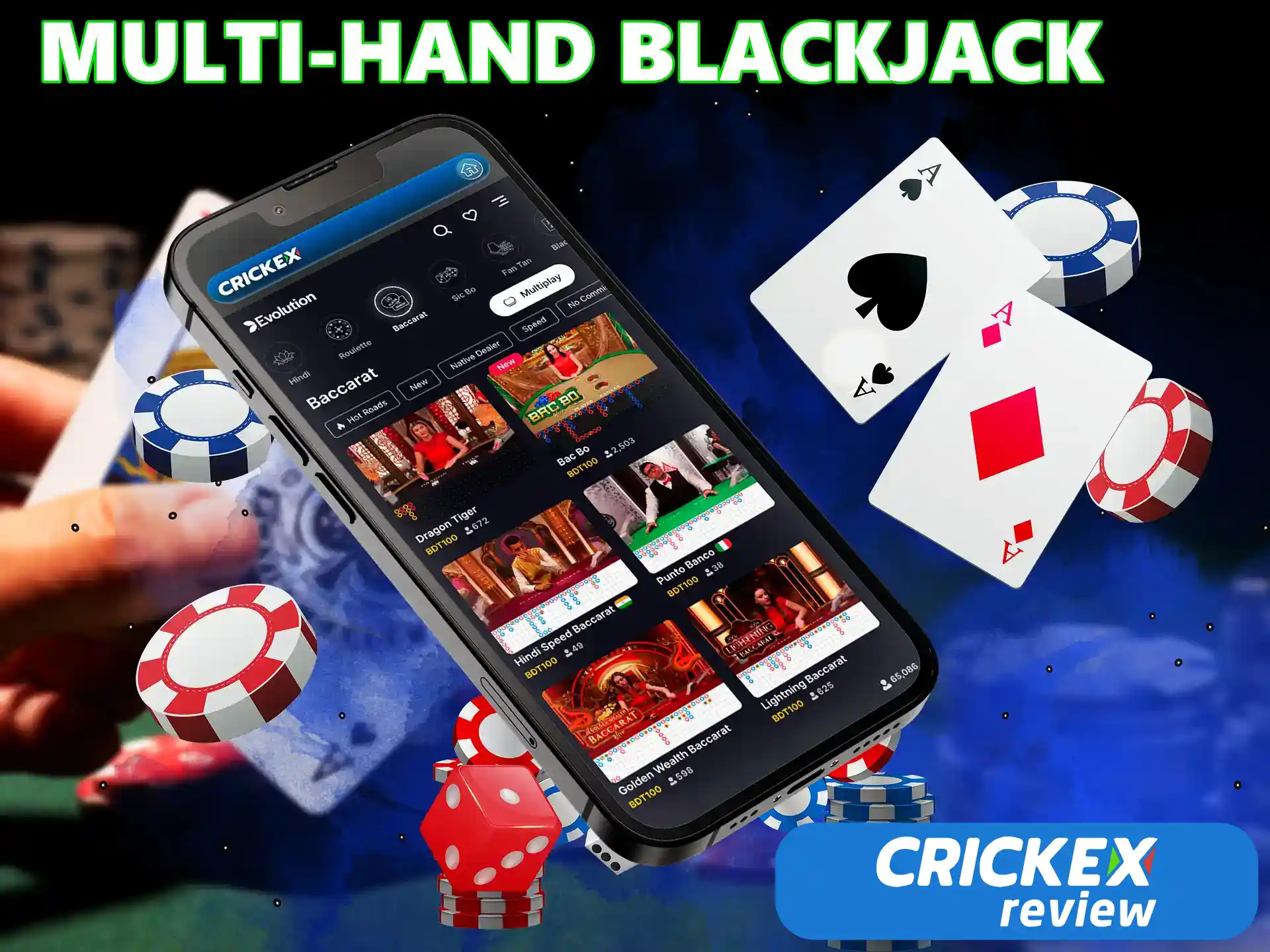 Live Casino Blackjack
Live casino blackjack allows players to play blackjack in real time with real dealers and other players. The difference between the live and virtual versions is that the minimum and maximum bets are generally higher in the live version. You will also have to wait to join the game if all of the seats at the table are taken.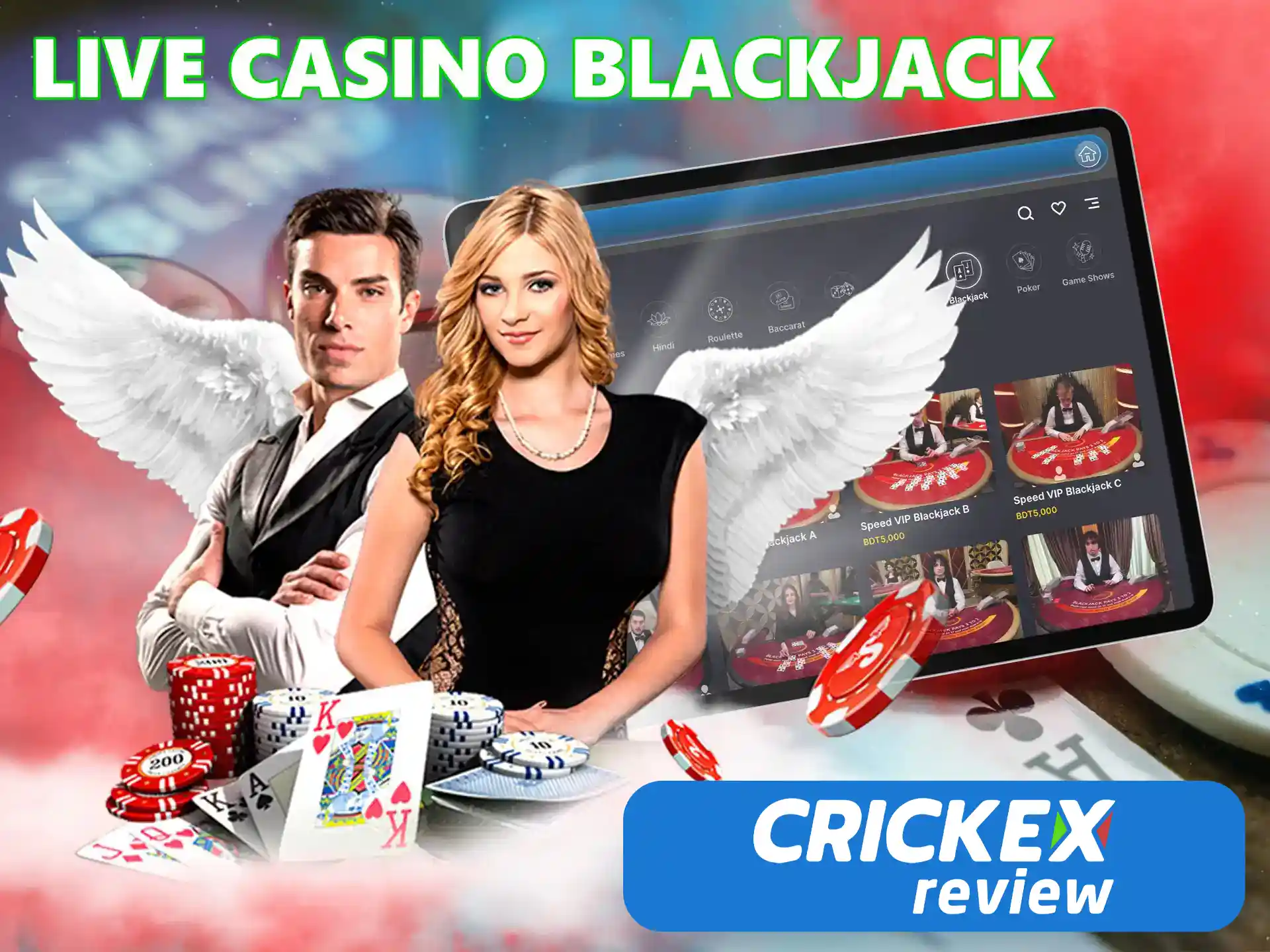 Crickex Blackjack Mobile App
If you want to play Crickex games, including blackjack, from anywhere at any time, you can do so by downloading our free mobile app from the Crickex website. The mobile app is available for both Android and iOS and contains the same features as the website.
Follow these steps to begin playing blackjack directly from your mobile device via the Crickex mobile app:
Download and install the mobile app. The app is available for free download from our website.
Register or log in. Log in to your existing account. If you don't have an account, create one by following the instructions above in this article.
Make a deposit. If your balance is already positive, you can begin playing blackjack right away. If your balance is zero, you need to top it up under the "Deposit" section.
Start playing blackjack. Choose blackjack, join a table you like, make a bet and start playing for real money!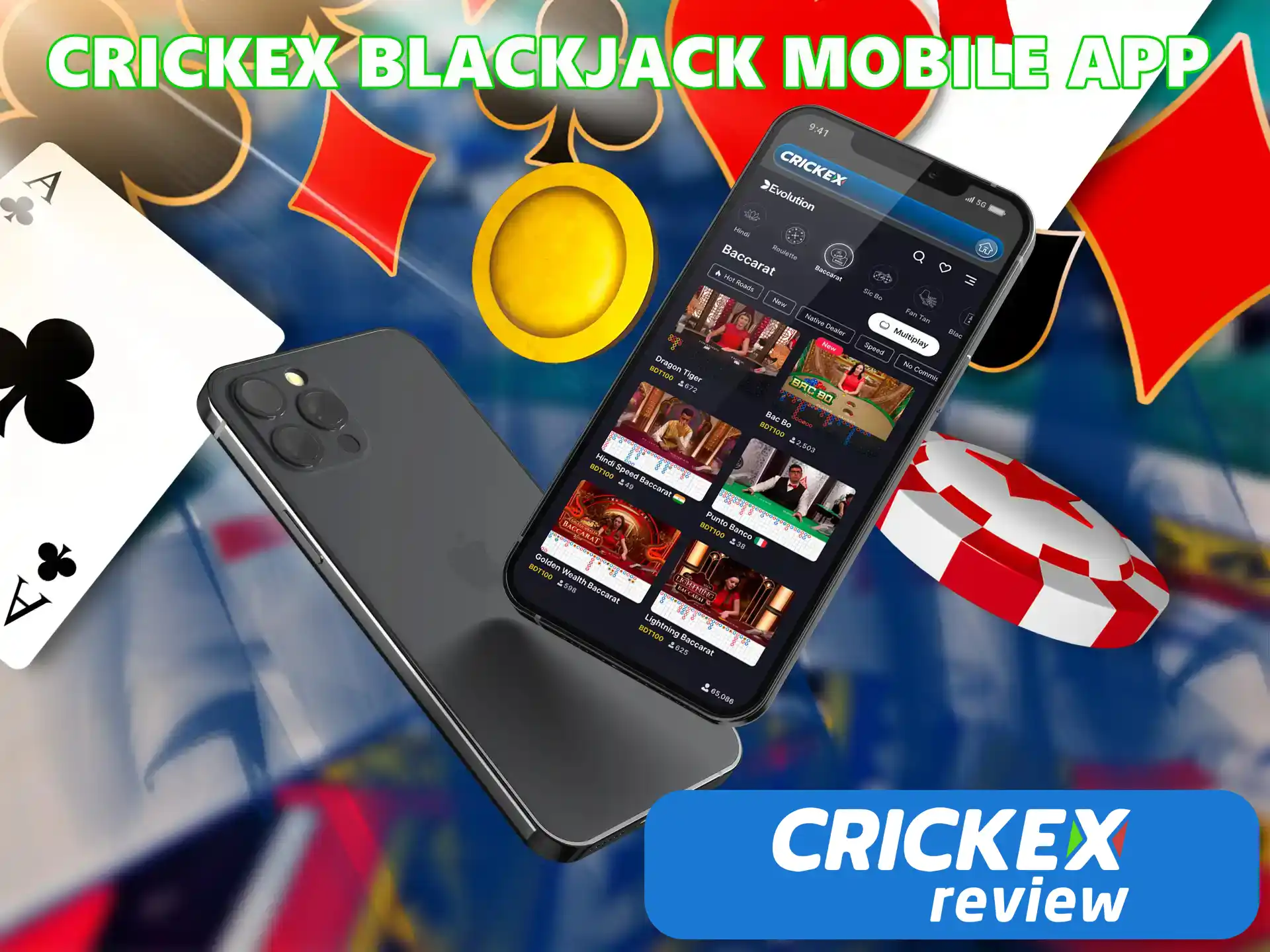 FAQ
Is It Legal to Play Blackjack Online in Bangladesh?

Yes, playing online blackjack at Crickex Casino is entirely legal, as Crickex is a licensed bookmaker that follows all international regulations. Crickex is also a top bookmaker in South Asia.
What types of Bonuses Can I Use to Play Blackjack Online at Crickex?

With our "Gift Point Exchange" promotion, you can earn extra money from blackjack betting by earning bonus points for every 1000 turnovers, which can then be exchanged for real money.
By betting on blackjack, you can also get 5% EVO Cashback up to 5,00,000BDT every week.
How to Start Playing Blackjack at the Crickex Casino?

To begin playing blackjack at Crickex Casino, you should first register on our website and create a personal account from which you will bet, make deposits, withdraw winnings, and enjoy bonuses and other platform benefits.
Can I Play Live Blackjack at the Crickex Casino?

Crickex Casino, of course, offers live blackjack with a live dealer. The action of live blackjack occurs in real time with real people, which adds to the game's interest and excitement.
Updated: