The Popular Deposit Methods at Crickex
With our company, Crickex casino players can make deposits and withdrawals via payment systems such as UPI, IMPS, PayTM, PhomePe, iPay, etc. Basic information about Crickex deposit limits can be found below.
| Payment System | Minimal Deposit Amount, BDT | Maximal Deposit Amount, BDT |
| --- | --- | --- |
| PayTM | 200 | 50 000 |
| IMPS | 200 | 50 000 |
| UPI | 200 | 50 000 |
| RUPEE-O | 200 | 50 000 |
| Bank Transfer | 200 | 50 000 |
| PhonePe | 200 | 50 000 |
| iPay | 200 | 50 000 |
| Tether | 900 | 450 000 |
If considering the most profitable Crickex payment options, UPI, IMPS and PayTM are the methods to consider. These are the ones with the lowest fees, which will allow the player to lose less money on transactions. A tether is also an attractive option, as its fees are also minimal. A bank transfer is also convenient, as one can get the money without paying any fees, but one will have to wait for a few days.
In the end, the player has to choose which is more important: not losing money on commissions but waiting a long time, or losing a little and getting the money as fast as possible.
Crickex Minimum Deposit
The current minimum deposit with Crickex casino is 200 BDT. Don't make a transaction for less than this, as money can be lost in this way. All deposits are processed instantly and money appears on your account balance in a couple of minutes. The withdrawal time depends on the selected transaction method and normally takes around 6 hours.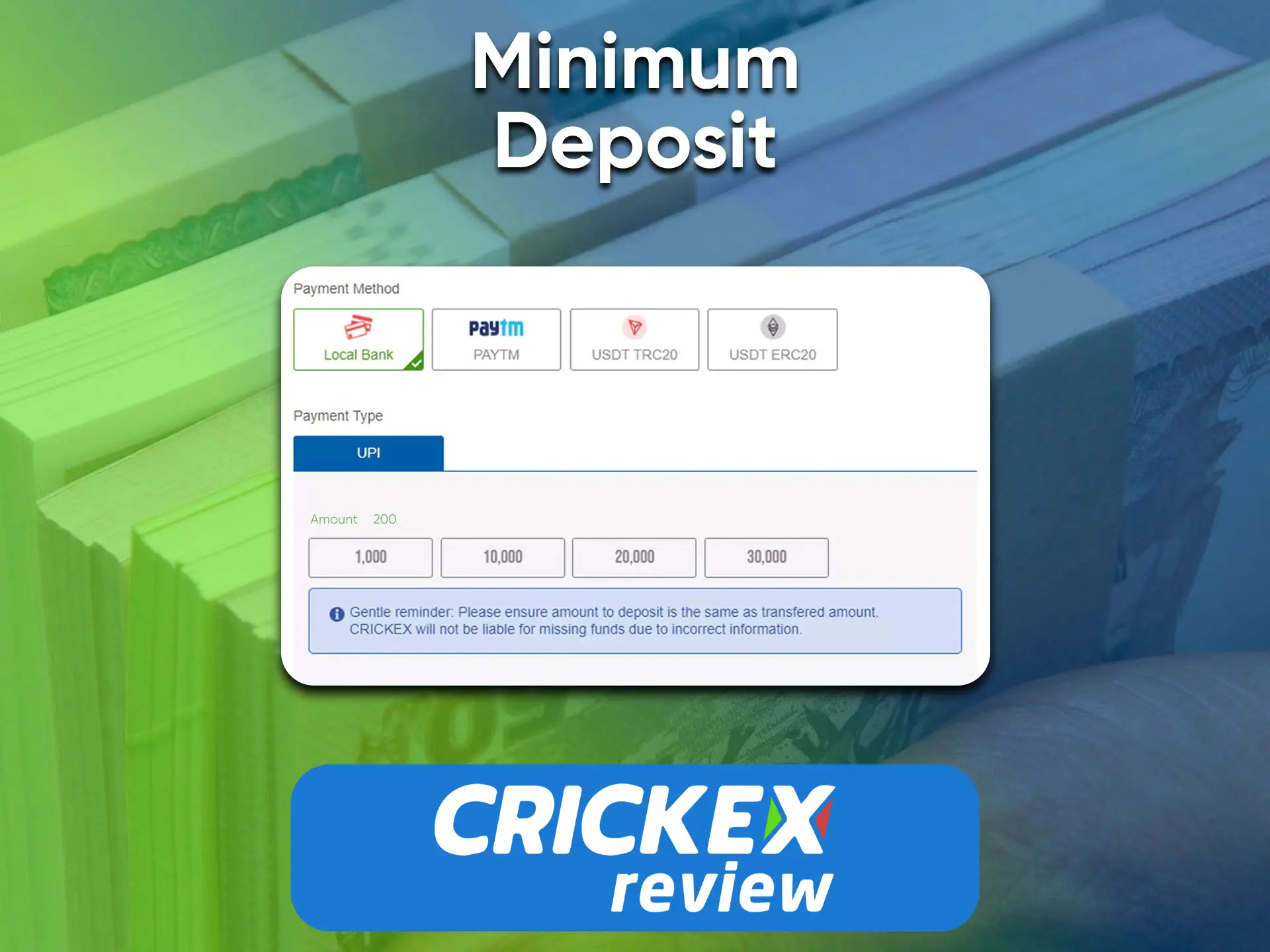 How to Deposit Money to Crickex
You need money to start betting or playing casino games on the Crickex casino website or Crickex app. Making a Crickex deposit is really not difficult and the whole procedure follows the instructions below.
1

Sign Up

To get started, you need to

create your own account

on our website. To create a profile, follow the guide below: To do this, click on "Sign Up" in the top bar and a new window will open. In this window, you need to create a username and password. This information will be used every time you log in to your profile on the website or on the app. Now select the currency in which your balance will be displayed and enter your referral code if you have one. Click on the arrow at the bottom of the window and fill in your full name, phone number, and email address information. Enter your verification code and complete your registration.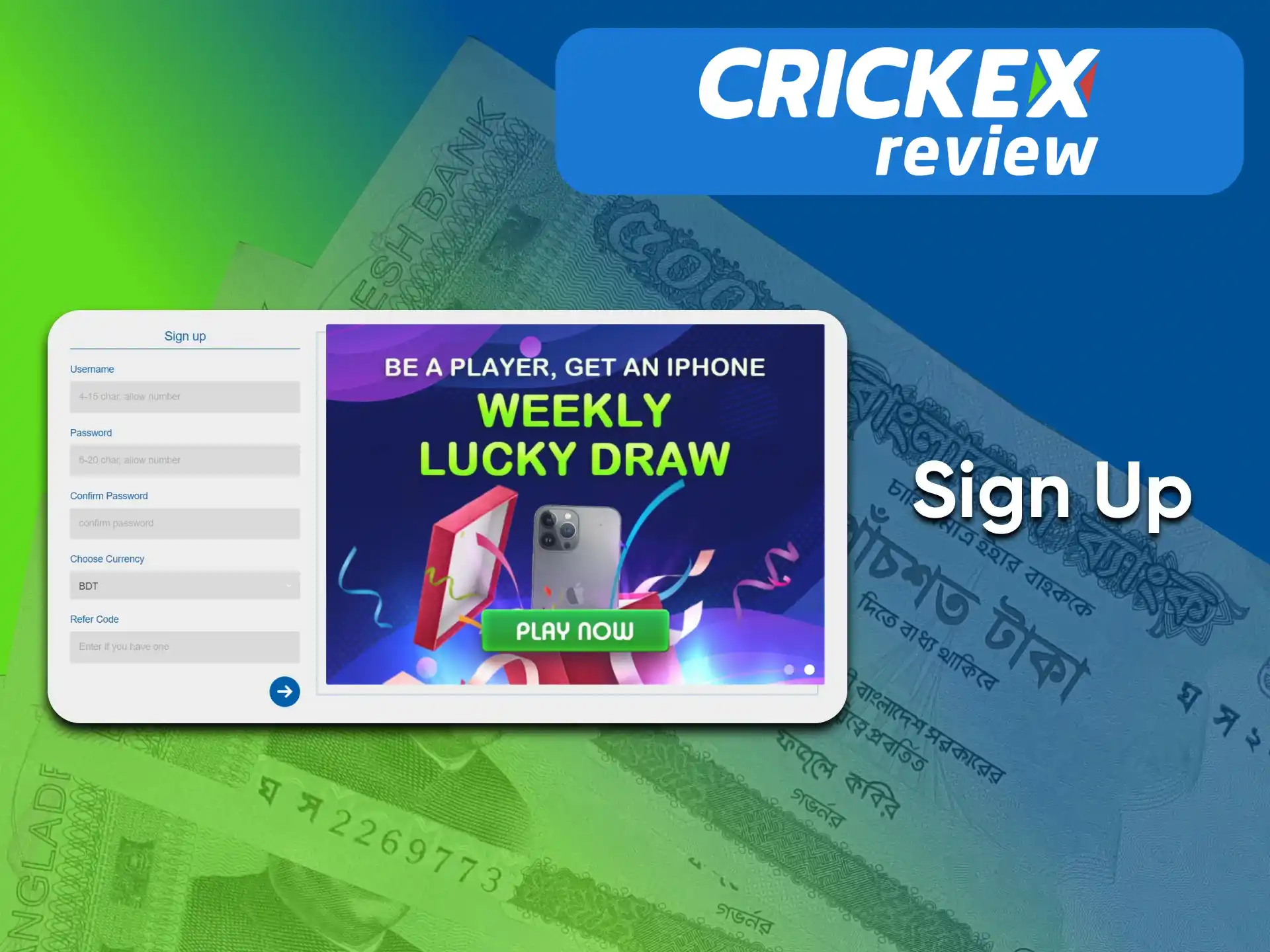 2

Choose a Payment System

After registration, the

Crickex deposit method

must be selected. To do this, use the appropriate button on the top bar. The player will be presented with a list of Crickex payment systems currently available. Choose one of them. We advise the player to look through all the payment systems and choose the one with the lowest fees. We do not charge any commissions, but the payment providers do.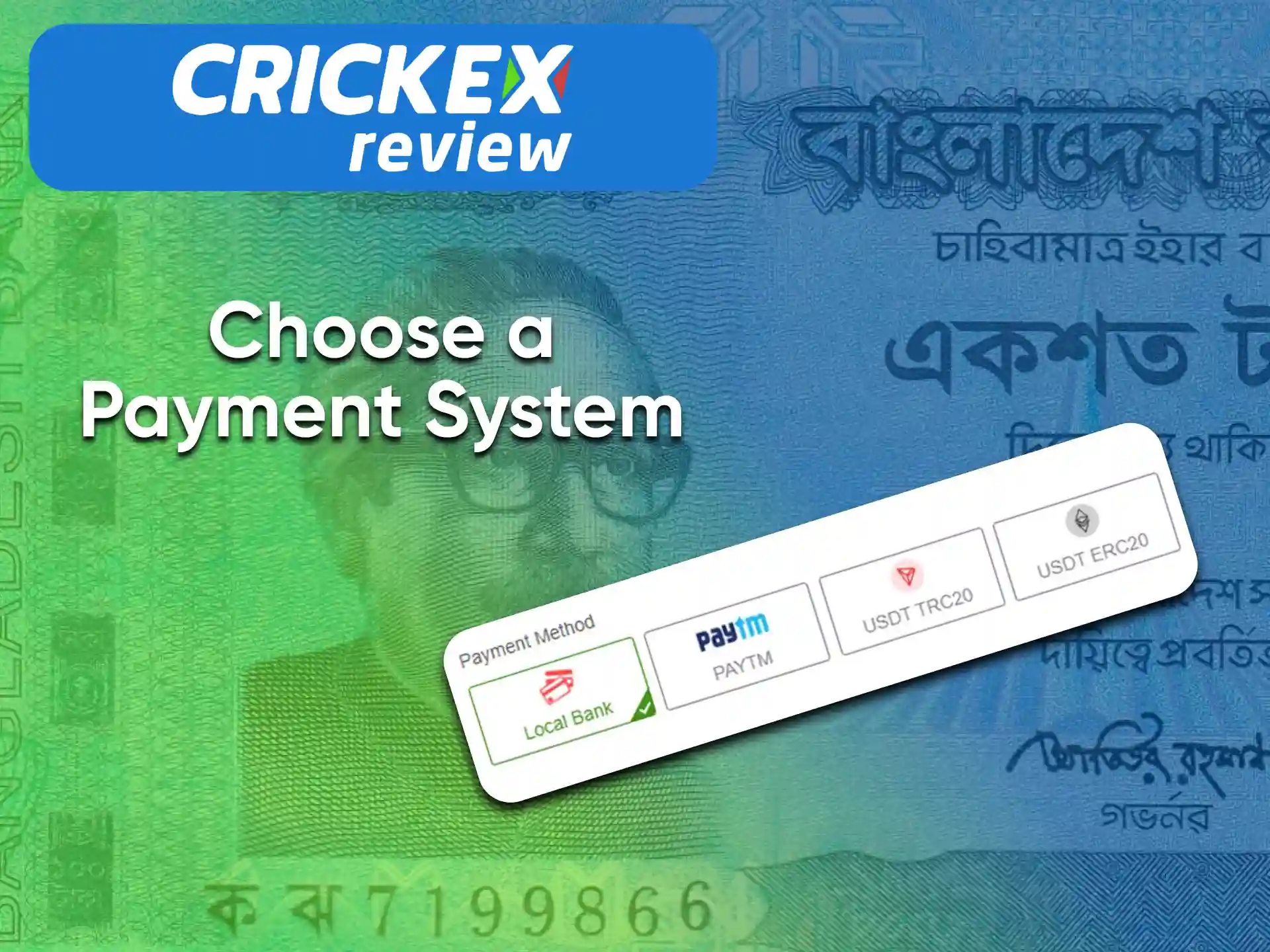 3

Enter the Data Required

All the player has to do now is enter the deposit amount and fill in the details. Don't worry, we won't steal your details. Also, check out our bonuses before the deposit, you might want to take advantage of one of them before you do so. That's it, you can now play in the casino or bet without restriction.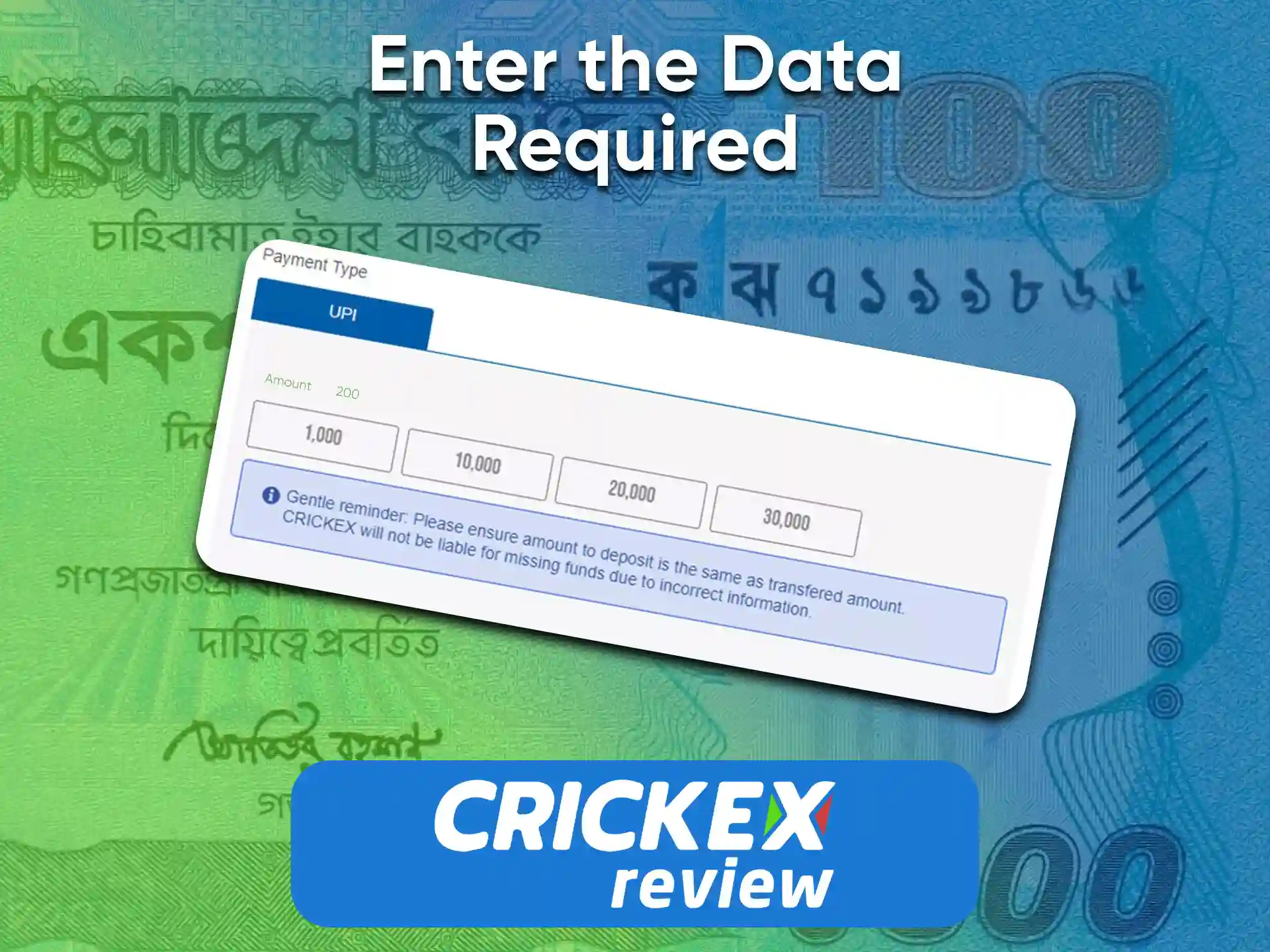 FAQ
Can I deposit BDT in Crickex?

Yes, we accept all players from Bangladesh as well as the currency of that country. If you make a Crickex deposit using another currency and you have BDT currency set up in your account, the money will be transferred at the current exchange rate.
What are the transaction fees, set by Crickex on deposit?

At the moment we do not charge for deposits and withdrawals, but the payment systems do. If you notice a withdrawal fee, you should refer to the website of the payment system you used to make the transaction. In this way, the player will be able to find out the percentage of fees charged by the selected transaction method.
Do I need to pass the verification process just to make a deposit?

No, at the moment we do not have verification as such. However, we can check the player's account at any time and request the necessary documentation from the player. During this procedure, our client will not be able to spend any money from the profile balance.
Can I deposit cryptocurrency?

Yes, of course, you can. We currently accept Tether. This token is low volatility and tied to the dollar exchange rate, so even if your money stays in it for a long time, you won't lose much. What's more, Tether cryptocurrency usually achieves some of the lowest fees.
Updated: